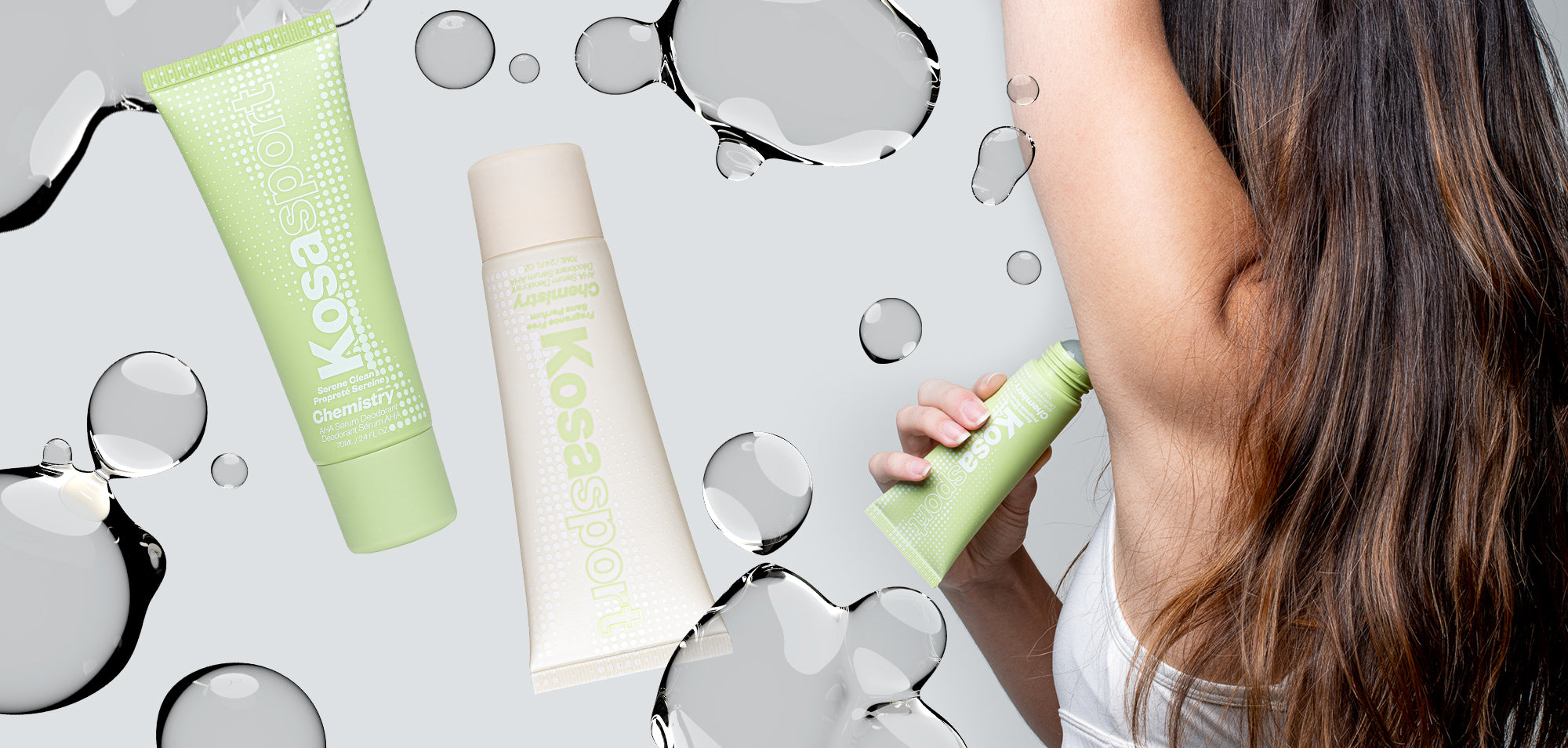 Tested on People Who Smell: Chemistry AHA Serum Deodorant
While creating Chemistry, the Kosas team chatted about our own deodorant journey—how many we'd tried, our pit insecurities, who had the strongest BO, etc.
We were inspired to make a deodorant because we wanted a clean one that really worked—one that we'd feel confident wearing ourselves. Now that it's here, we checked back with the team to see how they're feeling and if all their deo dreams came true.
"When I first heard AHAs (Alpha Hydroxy Acids), I was a bit nervous about the harshness of acids. But it's amazing that the formula is actually gentle and doesn't cause irritation on the delicate pit area, yet it's still potent enough to knock-out BO. I also like that there's no "detox period" like other clean deodorants."
-Crystal Saucedo, Marketing Specialist
"Okay, not gonna lie; I was pretty skeptical of the texture of this deodorant. The gel-like consistency was weird at first. But to my surprise it dries down quickly and feels really soothing going on." 
-Demi Washington, NYC Senior Brand Specialist

"It's so hard to find a clean deodorant that actually works.  I must have tried 20+ brands in my initial search, until I settled on one that I used for the past 6 years. It worked on BO, but the application was less than desirable, and it left an ugly residue on my clothes. That's the best I could do until this deodorant. It's easy and so nice to use. I love the smell.  It's so fresh and clean, and so are my pits.  No BO!"
-Julie Glover, VP of Sales
"I love the Serene Clean  scent because it's very mild and not perfumey. My underarm skin loves the formula…it's so smoothing and soothing. And, most importantly, I DON'T STINK AT ALL. I've never had this result with a clean deo before—this was my last hope before I went to botox for my underarm. A bonus is that it doesn't stain my clothing with an oily residue like coconut-oil-based products do."
-Dawn Isaksen, CFO
"Clean deodorant has never worked on my body odor. But Chemistry was instant for me. I still can't believe it. I keep checking my pits intermittently and they don't smell! They also feel softer and less bumpy."
-Michelle Miller, VP of Marketing
"Really vibing with this new AHA take on deodorant. I love that my body still has the ability to sweat, but I don't smell."
-Kristopher Redinger, Senior Brand Specialist